Center for Power Optimization of Electro-thermal Systems
Education Initiatives
Broadening the participation of and strengthening the K-20 STEM pipeline and increasing STEM literacy, is the critical, overarching goal of POETS' educational and workforce development efforts. To achieve this goal, POETS recruits and engages learners from diverse backgrounds across the K-20 education ladder, leveraging the relevance and high-impact application domains of the center's research.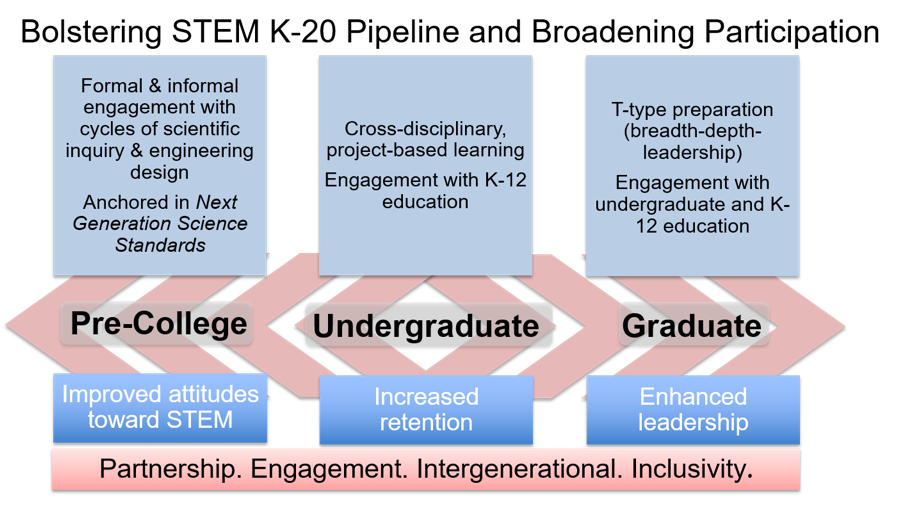 Pre-college   Undergraduate   Graduate
POETS education programs feature a number of organizing principles and cross-cutting themes:
Long-term engagement of learners and their instructors from middle school all the way to doctoral programs.
Design-based challenges with cycles of refinement and improvement, which provide opportunities to engage learner and instructors in cycles of scientific inquiry and engineering design.
Engagement with meaningful context in which design-based challenges draw from strong societal interest that include electric transportation, high-performance mobile devices, and fundamental energy conversation.
Inter-generational communities of learners with interlocking circles of mentoring and collaboration team activities at both formal (e.g. middle school science classrooms, undergraduate courses) and informal learning setting (e.g., after-school engineering clubs, RET programs).
Progress