Center for Power Optimization of Electro-thermal Systems
Young Scholars Research Program
Young Scholars Research Program
The POETS Young Scholars Research Program is an opportunity for high school students to advance their goal of pursing higher education.
Our scholars are able to participate in an authentic research experience at a world-class research university, under the mentorship of a faculty member or graduate student. Scholars additionally receive one-on-one coaching and advising from a teacher mentor, who help coach the student through their research experience.
Additionally, students participate in weekly seminars on various topics including research projects, college readiness, and scientific communication. The ultimate goal of this program is to make students feel comfortable in a university setting, form a science identity, and gain confidence in attending college.
The summer of 2017 was our pilot year for the Young Scholars Program at the University of Illinois. The summer of 2020 we will have our Young Scholars work on teams of two high school students and one high school teacher. This will allow more research progress to be made, and allow the students to gain more mentoring opportunities. This effort is supported by a National Science Foundation REM supplement award.
The POETS Young Scholar/REM program is apart of the UIUC Worldwide Youth in Science and Engineering Program. Through this program we partner with various Engineering Departments across campus, allowing us to share programming and widen the network of students our program participants are able to network with.
Program Dates
June 12th through July 31st, 2020

Pre-training will occur June 12th-June 26th. This will involve fun group activities and preliminary research training.

Student will work closely with the POETS REU program.

This year the program will be fully remote.
Program Goals
Introduce students to scientific research and promote career opportunities in the field
Help students gain knowledge in a variety of science applications
Help students gain an understanding of science and its local and global impact
Student Benefits
Work in a cutting-edge research laboratory
Pursue higher education goals
Builds resume
Get a taste of college life
Free lunch every day during the program.
Free bus pass
$2000 summer stipend!
What's the difference between the POETS, Physics and BioEngineering/SPHERES summer programs?
All programs have the same goals and program structure. The difference is the research you will be doing in each program.
POETS: POETS does research in the space of electrical engineering, computer engineering and mechanical engineering. We work on electric airplanes, electric cars and electric manufacturing equipment. If you are interested in circuits, hands-on projects, building, or programming then the POETS program is right for you.
Physics: If you are interested in dark matter, lasers or materials then the PhYSics Young Scholars program may be right for you: https://npl.illinois.edu/YoungScholars.asp
Bioengineering: If you are interested in merging your biology and engineering interests, then the SPHERES Young Scholars program may be right for you: https://medicine.illinois.edu/research/spheres/
Regardless of which program you are interested in, you will be applying through the same application system (see details below). In your essay, you can discuss which research you are most interested in getting involved in this summer.
Eligibility Requirements and Application
*The following application requirements apply to three Young Scholar programs: phYSics Young Scholars, P/O/E/T/S Young Scholars and SPHERES Young Scholars*
Rising high school junior or senior at time of application
Underrepresented group
500 word essay
Essay Requirements
500 words: OPENS APRIL 11th - CLOSES MAY 10th at 4:00 PM.
Include a brief introduction about yourself & background
Discuss science interests & experiences
Submit Essay here: Online Application System
2020 Calendar of Events
Coming soon.
POETS Young Scholars in the News
Young Scholars get change to do real research in UI Labs (Jul 2019)
Young Scholars gain authentic research experience (Aug 2018)
POETS 2017 summer education activities (Aug 2017)
Previous Calendar of Events
Program Schedule & Calendar of Events
For more information please contact Joe Muskin and Dr. Jessica Perez.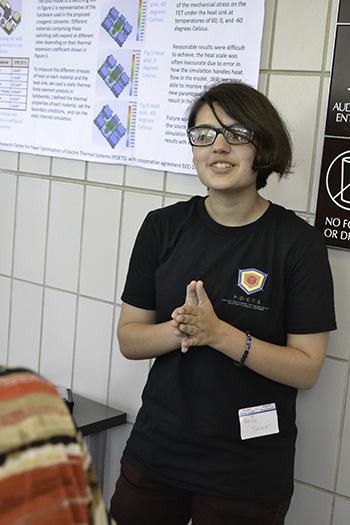 POETS Young Scholar Avrille Turner presents her research during the poster session.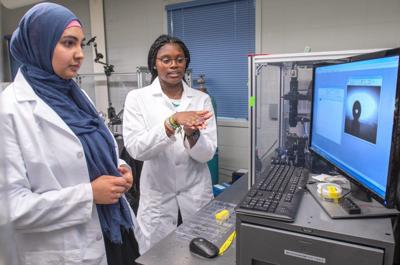 Central High School students Rola Abudayeh, left, and Madisen LeShoure explain Friday the micro goniometer they are using to research hydrophobic surfaces in a laboratory on the University of Illinois campus in Urbana.