The goal of our pre-college program is to improve attitudes towards STEM through formal and informal engagement with cycles of scientific inquiry and engineering design processes. We hope to have long-term engagement with students through multiple programs and allow for intergenerational learning by engaging POETS undergraduates, graduates and faculty members with our pre-college activities.
Research Experience for Teachers (RET)
Young Scholars Summer Research Program
Engineering clubs and competitions
Informal Outreach
Below is the list of POETS's partner public schools:
East St. Louis School District #189
Chicago Public Schools
Tuscola Community Unit School District #301
Rantoul Township High School
Champaign Unit #4
Pre-College Education News
Posted: August 8th,  2017
YOUNG SCHOLARS PROGRAM: ILLINOIS HIGH SCHOOL STUDENTS ENGAGE IN POETS RESEARCH OVER SUMMER: Summer 2017
Instead of spending their summers working at McDonald's, or lounging by the pool, twelve students from Centennial and Central High Schools in Champaign, IL spent the summer experiencing authentic, cutting-edge research in some of Illinois' premier research labs. The POETS Engineering Research Center partnered with the Illinois Physics Department to start a new six-week summer research program.  Young Scholars received funding from multiple sources: ICR funds from the NSF NPL grant, the NSF-funded POETS, the Physics Department itself, and the College of Engineering. The fledgling program was begun to help underrepresented students gain confidence and interest in STEM-related fields. The students assisted with ongoing research projects by making measurements, creating simulations, running experiments and analyzing data. Students were also exposed to a varied of special programming, including discussions of college applications, mentee training, financial aid, college applications as well as poster preparation.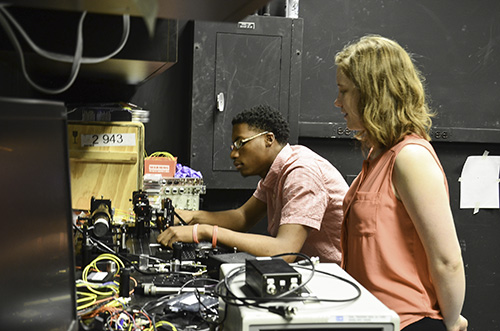 Davon Minor with his mentor, Courtney Krafczyk, making adjustments to his experimental setup to study the Zeno Effect.
Soumyadip "Deep" Sett mentored rising high school sophomore Ahmad Al-Juboory. Ahmad and Deep worked together to explore how water droplets behave on different types of surfaces. This project was apart of a larger lab effort to study super-hydrophobic and oleophobic surfaces for enhanced condensation heat transfer for water and refrigerant based condensation systems. At the end of the program, Ahmad mentioned that this experience has made him a better student and taught him more about college life. Deep as well as many others in the Milkovic lab welcomed Ahmad and brought his into the laboratory culture.
Nate Pallo, Young Scholar mentor, asking Ahmad Al-Juboory, Young Scholar mentee, about his research at the Young Scholars Research Symposium on July 28th, 2017.
Darius 'DJ' Jackson is a rising sophomore at Centennial high school and worked in Dr. Andrew Alleyne's lab over the summer on studying automated valve control for aircraft experimental testbed. Malia Kawamura and Sunny Sharma were DJ's mentors and worked hard to support and encourage DJ throughout the summer. DJ said that this experience has made him interested in doing more research in the future. This program also helped him to learn "how to work in stressful situation" and better manage his responsibilities. It also showed him the social side of research and lab teams, increasing his interest in participating while still in high school.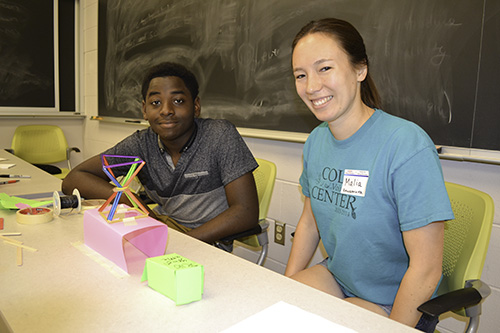 Darius 'DJ' Jackson and his mentor Malia K. working on a demo to explain their research project this summer.
Nathan Pallo and Derek Chou hosted Avrille 'Ace' Turner, a rising high school junior in the Pilawa lab. Ace said that this experience allowed her to "discover that [she] wants to be a mechanical engineer. If [she] had not been accept into this program [she] would have not realized this." This realization inevitably came after Ace saw that "engineering is really only as hard as you make it out to be. Perspective and attitude make a huge difference." Additionally, Ace noted that she has learned more about her own personal obstacles and is exploring ways to be better organized and plan ahead. This is a valuable lesson to learn now, before college. In Ace's mentor award nomination she noted how much she appreciated the mentorship and support both her mentors gave.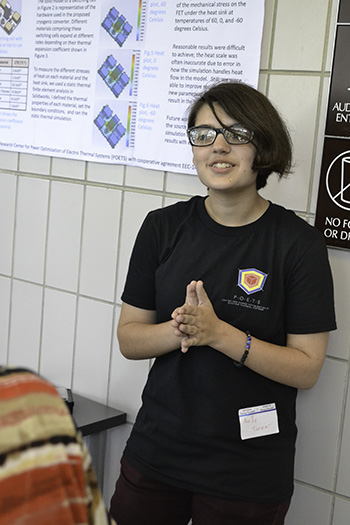 Ace Turner presenting her research at the Young Scholars Research Symposium on July 28th, 2017.
Read more out this program here: iSTEM publication and Young Scholars website.
Posted: June 30th,  2017
ARKANSAS HIGH SCHOOL STUDENTS TOUR U of A POETS facility: MAY 22-24RD, 2017
The U of A Center for Power Optimization of Electro-Thermal Systems (POETS) in the College of Engineering's Department of Electrical Engineering hosted an on-campus tour for 462 sixth-grade Hellstern Middle School students and their teachers May 22 -24.
The students toured the National Center for Reliable Electric Power Transmission (NCRECPT) and participated in demonstrations of electrical energy. The tour of the High Density Electronics Center (HiDEC) included an introduction to the clean room, a demonstration of heat transfer through a diamond plate to cut ice and a hands-on introduction to a 3D printer. The students also toured the U of A campus and lunched at Baum Stadium.
Read more out this event here: http://news.uark.edu/articles/38987/hellstern-middle-schoolers-tour-u-of-a-s-center-for-power-optimization-of-electro-thermal-systems
Posted: June 8th,  2017
ILLINOIS HIGH SCHOOL STUDENTS RESEARCH HEAT PIPES: MAY 23RD, 2017
In the spring of 2017 67 sophomore chemistry students at University Laboratory High School in Urbana, IL were given a challenge to study the behavior of heat pipes. This activity was apart of the RET curriculum developed by David Bergandine, a 2016 POETS RET teacher.
Heat pipes are heat transfer devices consisting of a sealed pipe or tube partially filled with a "working fluid" and a wick down the length of the pipe. Students were asked to determine the influence of a particular variable on heat pipe performance. The students identified at least ten variables: length, diameter, wall thickness, wick material, working fluid, liquid volume, tubing metal, closure fixatives (caps and adhesives), and thermal conductivity of cop-per at various thicknesses. Each group was formed around their interests and individual abilities. Over the semester students built heat pipe prototypes, designed an experimental protocol for testing their individual variable, and recorded their results.
On May 23rd POETS hosted a High School Research Symposium for the three chemistry classes where they shared their findings in the form of a poster presentation and a two-minute video. Two POETS graduate students, Thomas Foulkes (Pilawa Group) and Junho Oh (Miljkovic Group), participated as judges in this event. This is a great example of how the curriculum developed during POETS RET programs are impact local communities. Read more about this event here: https://www.istem.illinois.edu/news/uni.poets.heatpipes.html